A timeline takes its first steps
We are excited to announce the alpha release of TimeFlow: an open-source analytical timeline for reporters. This is a project we've been working on with Sarah Cohen, a Knight professor at Duke University and former reporter at the Washington Post.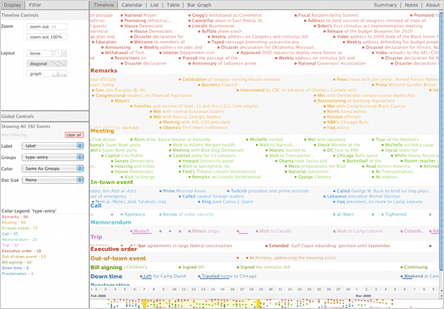 The motivation behind TimeFlow comes from Sarah's realization that visual analytical tools for reporters are rare. There are good visual presentation tools out there, but those that allow journalists to mull over hundreds and thousands of data points, slicing and dicing the information as they go along are harder to come by. Given this mandate, we set out to rethink timelines,
striving to always show as much textual detail about the data as possible (a goal dear to reporters that, interestingly, goes against the visualization impulse to always aggregate).
TimeFlow offers five different viewing options: timeline, calendar, bar chart, table and list. There is also considerable flexibility in filtering values, combining filters, and re-arranging points on the screen.
TimeFlow is a Java desktop application. Read more and download the files at the TimeFlow home page.
Give it a spin and let us know what you think!
Also, if you're interested in contributing to the future development of the tool, we welcome help in that front too!